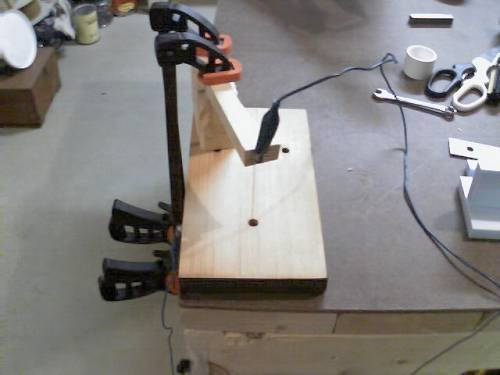 Tonight I decided to make a Styrofoam Cutter. It is exactly like a jig-saw, except for the fact that it uses a heated wire for the cutting, instead of a blade. I got the idea from some very nice sites on the internet. One was called DansWorkshop.com and the other was TheWorkshop.ca. Both have a lot of great information on performing different tasks with hot wire foam cutting.
I plan on using my foam cutter to do many of my parts for my Lathe Project but I need to first see how well the process will work.
This is my improvised cutter. It is made out of wood, and a quick job at that :) But it works well, for making the foam parts that I will cast for the creation of my real foam cutter.
The wire is from my Foundry Project when I bought the hair dryer for the charcoal furnace that I built. I had to strip the heating element out to make my blower. This is a perfect use for those coils. I have plenty of wire now... probably 15 feet of it or more, if it were all stretched out. I only need a few inches at a time, and it seems very sturdy. I don't think it will be burning out any time soon.
Power supplies... Simple. I used a 9 volt 780ma (7.02 watts total) DC power supply for my higher power cuts and a 14 volt 350 ma (4.9 watts total) for my lower power cuts. The watts are what really matter, not the volts in this application. Just grab any old power supply and look at the output ratings. My 9 volt supply was from an old answering machine and the 14 volt supply was from a cordless phone, I think. Both power supplies are super effecient for this type of application. You could not get more simple than this.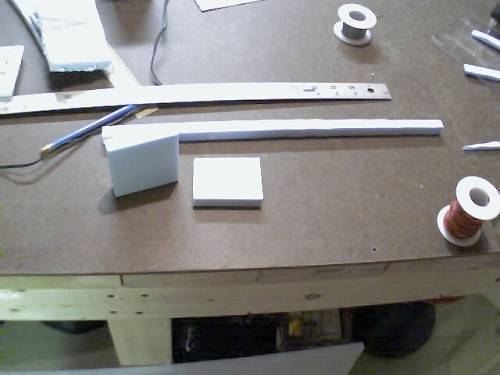 Here are the 3 pieces that I will use to make the real foam cutter upper support.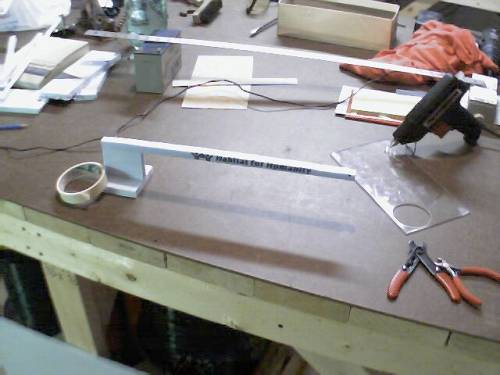 I used hot glue to secure the 3 parts into 1 unit.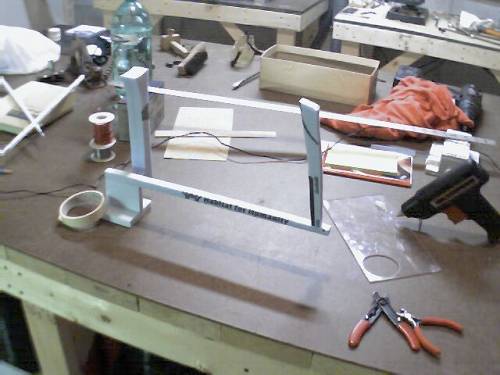 Here I have added a sprue on the back and a riser on the front. I think I will need the riser to help the gasses escape from the long support piece. I guess I will see how well this works tomorrow. I think I am going to use green sand instead of just normal dry sand. I think that dry sand will fall in and wash with the aluminum too much.
My idea is to use normal green sand mix to better hold the shape of the foam. I think it will work well, but we shall see tomorrow. --Stay tuned!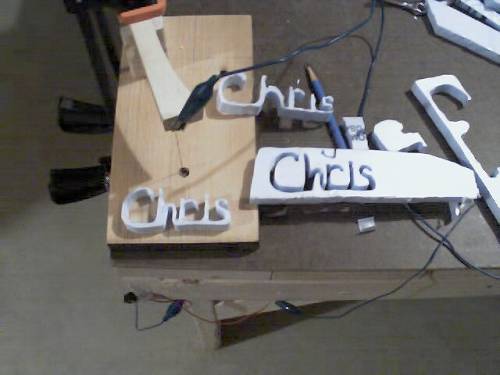 A bit of messing around before bed. I wanted to see just how much detail I could get out of the cutter. The first attempt is on top. It was with about 7 watts and it was too hot. The second (bottom left) is done with about 4 watts and it came out great. Much slower cut and a lot more control. The piece to the right is the (negative) of the good cut.
So I learned to use less power to do fine details and a bit more power to cut fast and larger pieces. Also with the 4 Watt power supply, I was able to hold still in the foam without switching off. If I use the 7 watt supply I have to turn off the cutter and then I can stop mid cut.