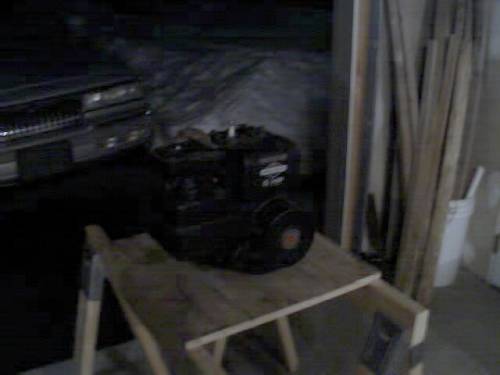 You're probably wondering why I finally decided on calling it a "Water Engine" ...right? -Well I thought long and hard about the name, and decided calling it the "H2O2 Engine" would sound like a Hydrogen Peroxide Engine. I didn't want people getting the wrong idea. I figured that calling it an "HO Engine" would make it sound like a model train. I didn't want that either ...by the way HO would have referred to the mono-atomic state of the gas. This super-gas form the hydrogen and oxygen that I have been hearing about and discussing with some people.
I decided on "Water Engine" because it was simple and it was direct. After all, once people start using these things, all they will think of is the Water aspect of it. They will only know that they put water into the tank, and it runs. They will have little to no concept of the Electrolysis and gasses involved in their engine or car running. -So "Water Engine" it is.
This engine is my very first attempt at getting something to run on "Water". I purchased the engine for $50.00 and set it up on this little stand so that I could work on it comfortably.
I have to go eat right now since I'm starved. I'll try to tell you tonight's story when I get back to the computer ...I hope that's tonight, if not it'll be tomorrow! sorry :)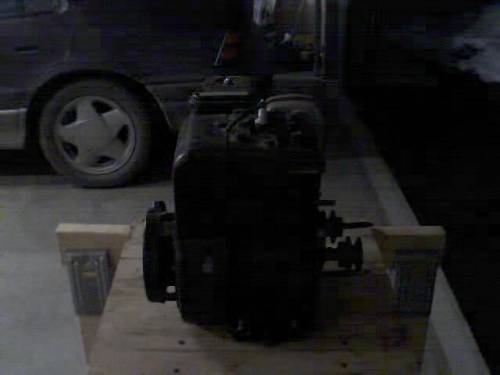 Just getting some different angles of my new test engine.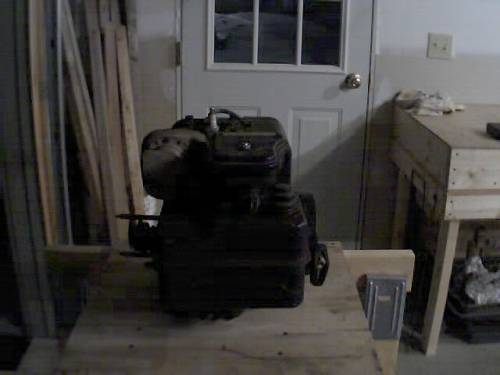 Sorry for the poor lighting.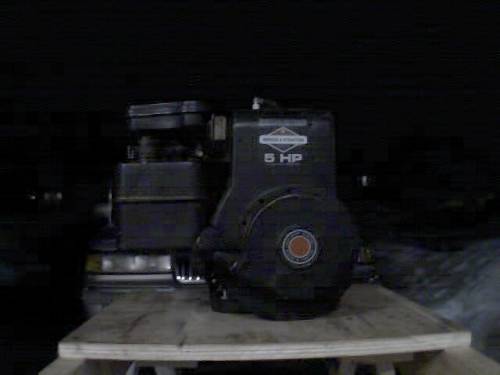 As you can see it's a Brigg's and Stratton 5hp engine. The engine runs at 3600 RPM and it is 206 cc's.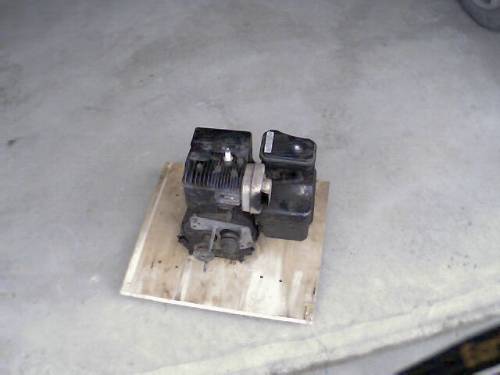 Here you can see the engine while it's actually running on gasoline. I wanted to be sure that everything was in fine working order before I started tinkering. It's really a shame to tear this nice little engine apart. It is identical to the one on my roto-tiller... except for the fact that this one is in excellent condition!
I may decide to destroy my older lawn mower instead. I hate to ruin something this nice. I know why they sold it for $50.00 though! -Probably all of my neighbors do as well *grin*. When I started it last evening it made the most increadibly loud and amazingly high pitched scream! -My wife had to cover her ears because she couldn't stand it.
After ripping the starting cord area apart, I found an ingenious little centrifugal mechanism. This had some metal inside of it that shot out when pulled, to allow it to grab the axel, but released when it was spinning by itself. That was a pure joy to see, for an inventor like myself :) -Yes, yes... I know the simple things of life!
At any rate, some TLC and some Oil, and she was better than new. The engine that I purchased for $50.00 could now easily sell for $150.00 since it barely looks to be used. I doubt very much that it has more than 20 hours of running time.