---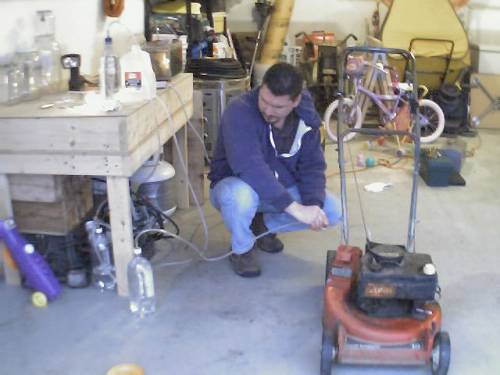 Here I am just messing with the gas to air ratio. My adjustments of the needle valve are simply letting in more or less gas, I am not really controlling the air at all... that's just sucking as much as it wants.
---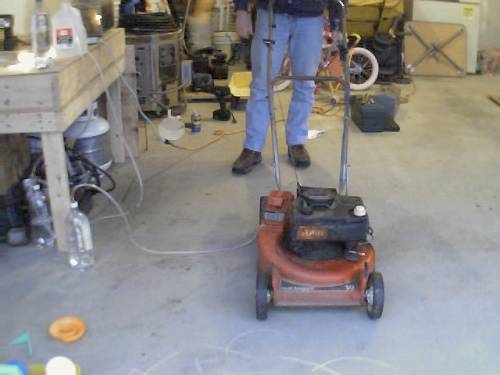 Hmmmm, I seem to be having a lot of trouble with this method. I recently got an idea from
Linnard
about using a drill to turn the crank up to a higher speed and then turning on my gas. I am going to try this as it will allow 2 very important advantages.
Advantage 1 will be that I do NOT turn the gas on until the RPM's are at a higher level. This should prevent backfiring and making it possible for me to listen for the proper gas ratio as the engine is spinning and sparking each revolution. Trying to pull start an engine while attempting to adjust fuel mixtures and such, can be a nightmare ...not to mention you are just asking for backfires!
Advantage 2 will be that I do not need to go from gasoline to gas (Hydrogen/Oxygen) on the fly. You see, since I was having so much difficulty dry starting the engine by pulling the cord, I decided to also try to "wet starting" the engine. By this term I mean I would let some gasoline in the line and pinch it off again with my clamp. Then I would run my engine for 30 seconds or so on gasoline until I heard it start to run out, at that time I would try to turn on my gas so that it could transition over. This was always difficult and problematic. I never got it to work properly. The engine would often burp and cough. But at the time, it was the only thing I could think of doing to try running my engine off of hydrogen/oxygen while the RPM's were fairly high.
---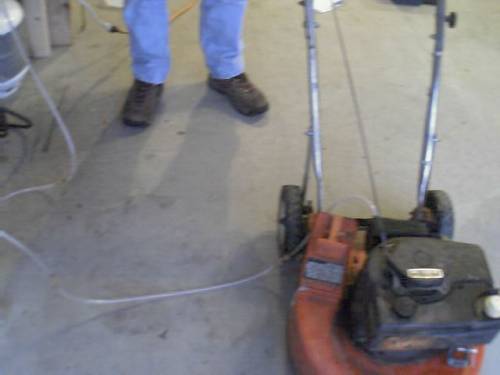 So you now see how the drill idea should solve my problems and provide a much better way for me to test things out. Thank you for that idea Linnard! -I will be posting my results as soon as I have some time to give things a try.
Also thank you Jay, for your idea about using valve grinding compound to obtain different timing. I am probably going to need that little trick very soon!