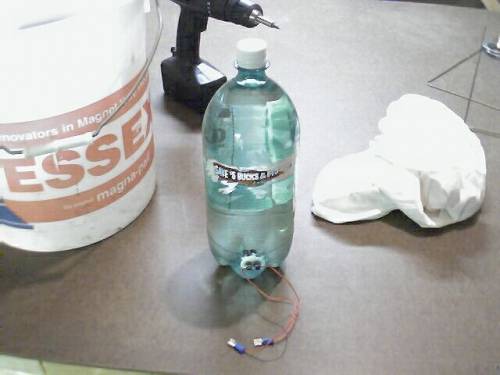 I decided to do some experimentation with electrolysis. I read a number of papers on the subject. I studied some theories and felt that it was exciting enough to try some work myself. I wanted to create a tight and compact design. Something that would be very efficient and at the same time, easy on space.
It is my firm belief that a solution exists whereby water can be readily converted to fuel without the need to store any of the dangerous gasses. If this could be achieved, we would have a limitless supply of power to use in every application requiring a motor or engine. The trouble is finding the proper method for getting more fuel out than energy in to create that fuel. -Yes again, Over Unity. -But you know me, I am positive that it exists, we just have to find it. :)
The first thing that I wanted to do was simply create some Hydrogen and Oxygen. So the easiest thing I could think of was to grab whatever was around me. I had some old batteries, from which I removed the carbon rods. I had an 2 liter bottle, and I had some goop glue.
I drilled the 2 holes, inserted the rods and glued everything inside and out. I used a long skinny wooden dowel to glob the glue on the inside surface around the rods. Then I soldered my wires on, although I couldn't get the solder to stick to the carbon very well.
I let things set for a day and tried it the next day. I used normal tap water, and it worked! Not very well, but it worked. I decided to try salt water and it worked better :) -OK so some day when I'm bored, I decided I would do a little experiment. I am going to buy some toy rocket igniters (electric ones) and tape one to a balloon. Then put the balloon over the top of this thing and set it out in the back yard far from anything. I will run very long wires to my igniter and then let this thing run for several hours until I have a balloon of the size I want. Then a simple touch of the wires to the battery and... you can figure out the rest.
Be sure you don't let it get too large unless you are prepared to deal with the consequences of police coming! I generally want to test how large a "storage area" could be, before it would be what I consider dangerous. I will take my information and put it to use in my next design. -I have yet to do the explosion tests but I will someday soon, and I will take pictures so that all of you can enjoy the experience with me!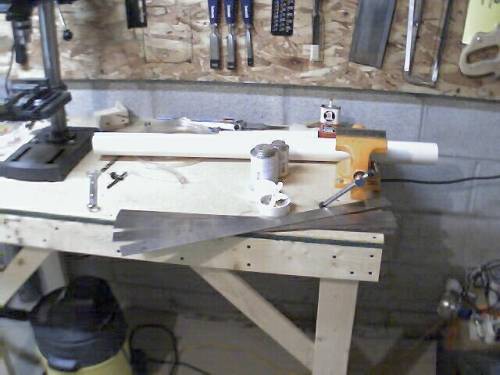 These are 8 strips of stainless steel. I believe it was 304 grade. They are 1.5 x 24 inches and rather thin. I would guess around a 32nd of an inch. I also had 4 smaller strips cut for a TEST device. The smaller ones are .5 x 16 inches and of the same thickness. If you do the math, the total surface area of the small ones is 64 square inches (.5 x 16 x 8). The larger set will be 576 square inches (1.5 x 24 x 16). The smaller TEST device will therefore be 9 times smaller than the larger prototype when finished.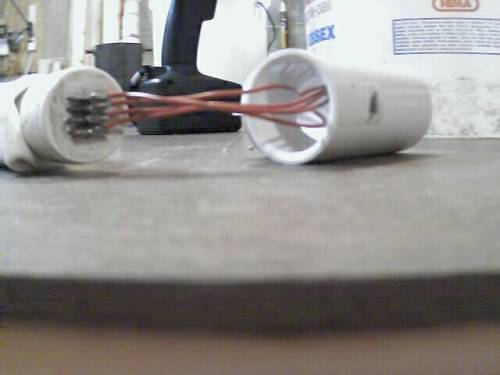 I used a heated Utility Knife to push a slit in the bottom of the PVC cap, then I inserted the first strip to keep that slit open. I followed the same method for the other 3 strips until all 4 were inserted into the cap. I left about 1/2 of an inch sticking out the bottom, so that I could attach my wires.
In retrospect, I would recommend drilling small holes in the end so that you could more easily attach the wires to the stainless steel. It does not solder well at all. I filing slits into mine which was a lot of extra work.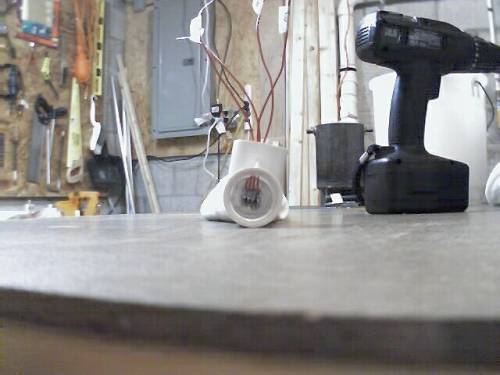 The key is to get all of the pieces in line with each other. After inserted, I gently bent each one as required so that all 4 pieces were lined up as perfectly as I could get them. A nice trick that I figured out was using some tiny NiB magnets that I have, to hold the opposite end apart, the required distance. I used 5 magnets total to hold the 4 strips. 1 magnet for each end, and 1 between each of the metal strips, so 5 total. This is perfect for determining where you have a bent strip. It takes a while to get everything perfectly straight.
Do not bother doing it before you insert into the cap, because once inserted, they get out of alignment anyway and you need to do this alignment all over again. So after they are all aligned, slide your magnet holders up toward the cap a bit. Leave yourself about 2 full inches of free metal strips at the top (the end opposite the cap). Heat up some wax in a spoon and get someone to help you here. You will hold the spoon and heat the wax with in it, then dip the top of your strips in the wax.
You can probably do this alone if you repeatedly dip the top in the wax to gradually form the plug, but I simply dipped it in and held it there (blowing on the wax) until it was hard. Use a razor to cut it out of the spoon. You now have a small wax plug separating your 4 strips. Form the wax with your fingers to clean it up and then remove your magnets.
You should now have 4 strips perfectly aligned and ready for the next step.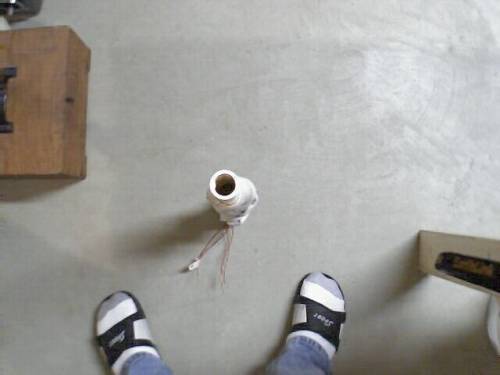 The next step is to put it together. You need to use a narrow nose "Goop Glue" container to squirt some glue down inside the cap to hold the stainless steel strips and make them water tight, then quickly slide your pvc pipe down the strips and push it firmly into the cap. Do this neatly since you will never get it apart again.
Your PVC should only be a few inches longer than the metal strips. Mine is about 4 inches longer than the strips. Let everything dry overnight.