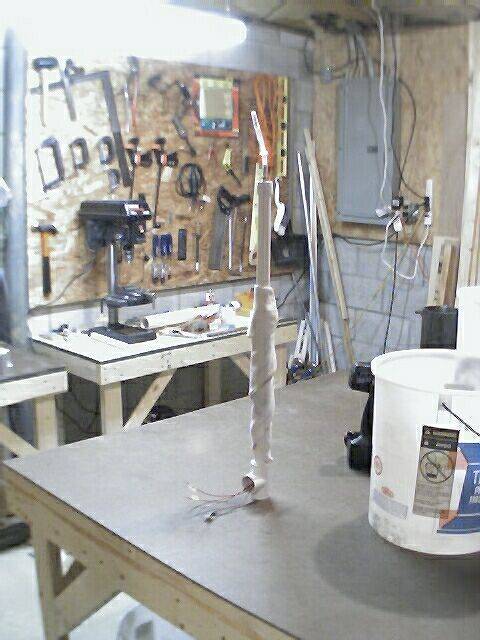 The next day you can get a PVC T joint to hold everything up. The T join must fit your CAP and not the PVC tube that you bought. So it will be a size or two larger than your tube. I had to sand a nub on my cap so that it fit the T joint properly. Then 1 layer of masking tape on the cap and I was set.
Solder your wires on and be sure that none of them are touching each other. Look back a few pictures to see better shots of my solder job on the wires. Again, holes drilled in the strips will probably prove to work nicely.
Once you have done the soldering, carefully feed your wires out the middle part of the T joint and you can now stand it all up.
I don't know if the idea for my design came from any 1 source, it was rather a collection of ideas that I brought together. I like the nice slender look and you could stack these side by side in a vehicle or anywhere for that matter.
I labeled my wires 1, 2, 3, 4 so that I didn't get anything mixed up. Again check that you have NO continuity between any of the wire leads. Once you are sure that you have no shorts, go ahead and fill your cell with normal tap water, so you don't ruin your strips. Connect wires 1 & 3 together and then 2 & 4 together. Apply your battery and watch it work!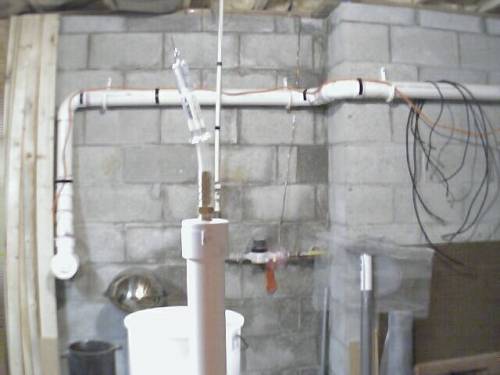 You will likely push out a bit of water so that is why I wrap the cell with a sock. Once the bubbles reach maximum the water stops overflowing. It was at this point that I started to wonder how loud the bubbles would be if I popped them with a torch off of the top.
I was getting some bubbles about 1/2 the size of a ping-pong ball. So I lit a torch and BANGGGGGGGGG! WOW! -That hurt my ears! This stuff is pretty powerful! I definitely see how you could drive an engine with it. I played a bit and then I decided to make a torch.
This is probably not a safe thing to do, as you are gathering up more of the gas. But I had to try it. The top of the cell is where I mounted my mini-torch. Yes my father takes embril injections to help his arthritis so I have a few of these that I saved for something... I just knew I would find a use for them. I cut off the point of the needle and then filed it to ensure that it was open. I removed the plunger and inserted a rubber tube which fit so perfectly it surprised me. I had to wet the tube to push it in. I inserted it the entire way up to the top.
I drilled a hole in the top cap and inserted a brass threaded nipple, onto which I pushed my rubber tube. Now as I said, I do not recommend doing this because you are messing with an explosive and GLASS!!! If it exploded, you would have some very nasty glass shards flying right at you! Also, you are storing up about the volume of 2 full ping-pong balls here!!!
Remember how loud the bubbles were? -They were just about 1/2 of a ping-pong ball. So again I do NOT recommend trying this with the glass. I am going to try to find some very small metal tubing to use instead, but I tried this for just a test.
I need to get some pictures of this as it is really cool. The little torch is so tiny it is amazing. But damn is it hot!!! I played around with it for quite some time, lighting my propane torch from it and all sorts of things.
One time, I don't know what I did but I somehow got the flame to blow out (or so I thought) next thing I realized was that needle was cherry red at the tip. It was never red before ...not ever. Not only that but the RED was moving down the needle at an alarming rate!!!! Oh my god! I believe the flame was inside and moving down toward the larger body of gas only 1.5 inches below!
I yanked off the top cap so fast... my heart was pounding very hard. I believe I missed the flying glass scenario by 1 second if not less! -I never tried the syringe again! I may fire it up once more just for a picture but that will be it. -Gotta find some very small metal tubes that I can attach my plastic tubing to.
One more thing, you will get a rusty looking froth on the top. I don't know how to stop this, but I heard that if you spoon it off, and keep the same water, it will decrease and possibly stop. Maybe it is just the junk working its way out of the water? -Ideas on this would be appreciated.
I plan on doing a lot more work in this area. I want to experiment with a lot of other ideas I have. I also want to build the larger cell, with 9 times the surface area of this little one. I bet that guy would sustain a very nice flame! More will be coming here soon. A lot more, I can assure you.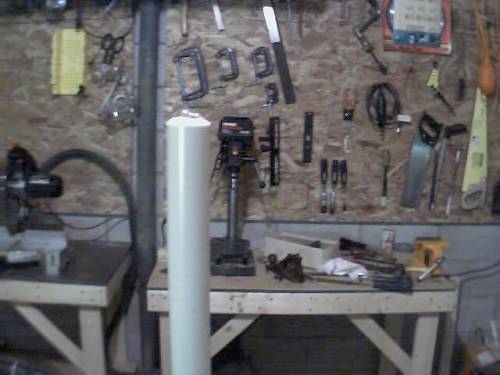 Hello, I decided to update this project with some text today. Sorry for the delay! The pics were here but nothing to tell you what you were seeing.
This picture is simply a snapshot of the cell generating some "Brown's Gas" (hydrogen and oxygen mixed together). It is a very volitile mix so one must exercise extreme caution when trying to store it... if you dare!
This bubble is the exact size that I was describing above. I was igniting these with my torch and it was very loud! I would hate to see how powerful a bubble the size of a baseball would be :(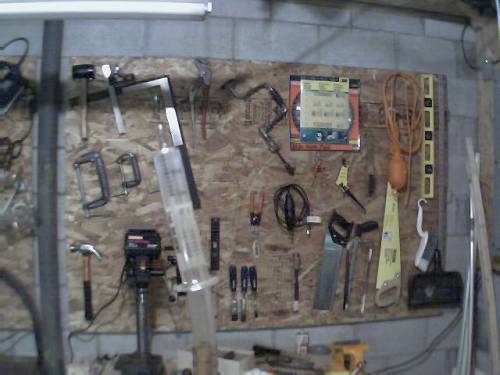 OK I said that I might fire up the "Syringe Torch" one more time (no pun intended), just to get you guys some pics. Well, here she is folks! This is is the little flame that I spoke of... happily burning away at the tip of the needle. If you look carefully, it is right in the corner of my 2 carpenter squares hanging on the wall. It almost looks like a reflection from the flash, but it is a genuine flame, burning right off of the hydrogen as I am producing it with this little cell.
For some interesting information, this cell is only about 123 cubic inches and it is able to produce a steady flame, yes a small flame, but steady none-the-less. One cubic foot, takes up 1728 cubic inches, so you could fit about 14 of these little generators in 1 cubic foot of space. I should think that could produce a fairly nice flame... don't you?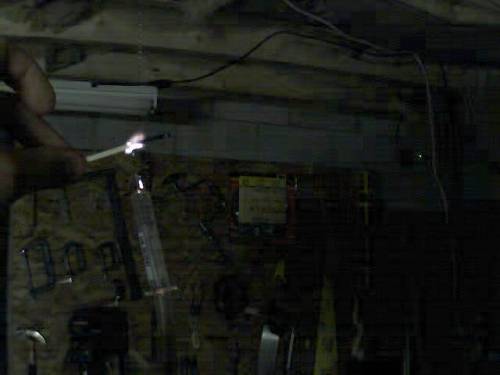 Here I am using the torch to re-light a spent match. The flame is super hot for the tiny size.