I have been wondering about retrofitting an ICE with a HYDROGEN booster (NOT Hydroxy as too much overhead in need for electricity). So I have been looking into the AlaskaStar method of Hydrogen Production without Electrolysis.
The problems seem to be in getting the Hydrogen delivered in quantity to the cylinder. So... I got to thinking about a thread that is floating around here somewhere for a Hydrogen injector. That system seemed to be less than a good solution...
So here is my idea...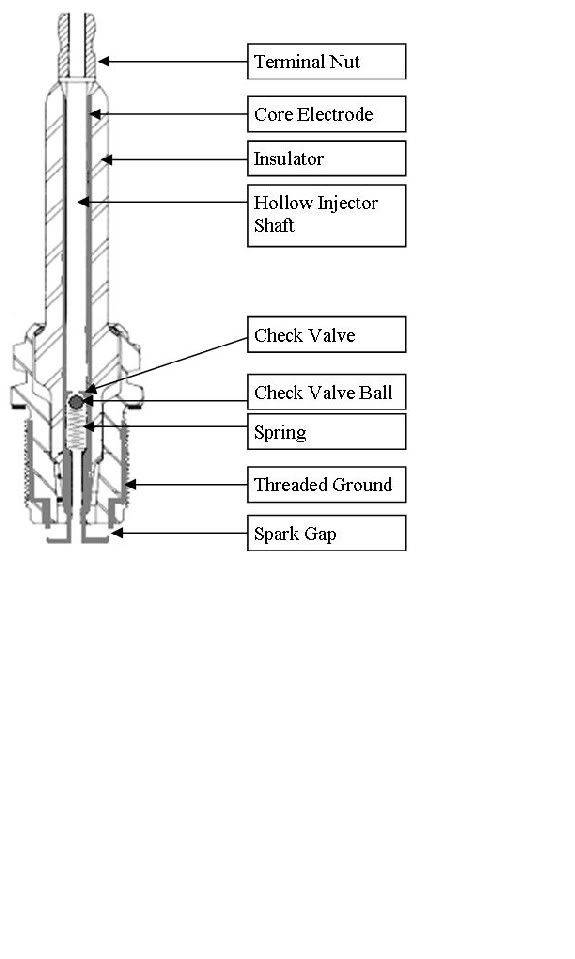 basically its a regular sparkplug but instead of a solid electrode down the center of the spark plug, it has a tube and the walls of the tube serve as the electrode. Now this will also call for a new set of plug wires, that has a connector at the top for the hydrogen fill hose. and the regular sparkplug wire would connect to the side... much like on a lawn mower plug.
In principle, is has a spring loaded check valve. When the piston is in the compression phase of course this would close the valve, but when the pressure in the piston drops to draw in fuel and air, the vacume would work inconjunction with positive pressure from the Hydrogen side to open the valve and provide a desired amount of Hydrogen into the chamber for combustion... and the cycle starts over. One thing that I though might be of use, that the image does not depict is the placement of 4 spark gaps, each at 90 degrees of the circle arc.
Just a thought, as this system would not require boring additional holes in your engine OR find an engine that already has two spark plug type holes per piston as AS indicated some do.
FlashBang!