Hello. I just wanted to post some info today, and i saw this topic (thanks).
(sorry my English)
So... I have bad news. Several hours ago I made one try. No gas. No bubbles. I assume I made several mistakes.
Fists let me tell you about my test setup.
I am using some PVC pipe. I measured it is 3,2 cm in diameter. About 35 cm long.
Than I take several pieces of wire (24 AWG wire with teflon? isolation).
I made 4 layers with this cable. The problem is, that these 4 layers are using different lenghts of wire. I am sure every layer has some differences in the turns ratio.
I measured about 280 turns per layer, however it vary with tolerance +/- up to 15 turns.
For the guys who know electronics (not me), it is known, that if you have some coil, when you pulse it, you get resistance (impedance). This is different from the ohmic resistance you measure with some meter.
In the coil there is inductance. When you pulse it with some frequency, it reacts with magnetic resistance and the overall resistance is bigger than the values you get with your meter. I measured about 1 ohm pure resistance of my 4 layer coil.
So, as many the cycles per second (the frequency) is higher, as many ohms you get.
And from the Ohm's law we know, that I=U/R, so if we do not touch our voltage, the higher the frequency, the higher the resistance, the lower the amperage.
As you know, 4 layers (we can imagine every layer is different coil). 4 layer are 4 coils. The little difference in the turns ratio may phaseout these coils which is bad.
But lets go back to the resistance.
I am using PWM. I made simple frequency generator using 4093 IC and IRF540 mosfet. This mosfet is very fast and is capable of caring 100v/30amps (believe me it gets hot at 4-5 amps and you have to cool it).
I have no frequency meter, but i put 330 nF capacitor on the 4093 IC. I am using 1 uF capacitor for lower frequencyes (several cycles per second to several tens of cycles per second). Therefore I put smaller capacitor (330 nF).
However this capacitor brought me frequencies up to several hundreds of cycles. I believe no more than 100-200. But I realized that too late and I will make some tests with bigger freqnency next time.
And this is the place I am.
There is some problem, or maybe I misunderstood something, but:
The more the turns - better magnetic strength (tesla/gauss).
The more the turns - better resistance in higher frequencies.
So if we have to reach higher frequencies, we must wind less turns.
There is the formula you can use to calculate your turns.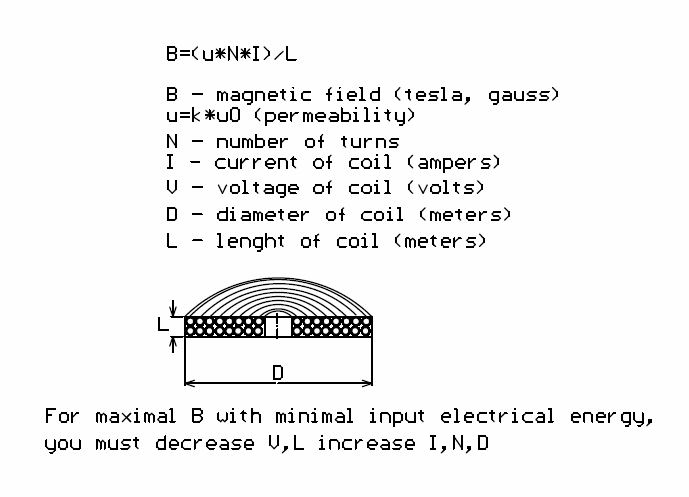 You get better B (magnetic strength) with more amperage, more turns, but the only way for higher amperage and higher freqencies are coils with few turns.
You can see what high frequency and high amperage can do:
http://www.richieburnett.co.uk/indheat.html
This is for now. I am waiting any advices.
Thank you. Feel free to ask what is unclear about my replication.