---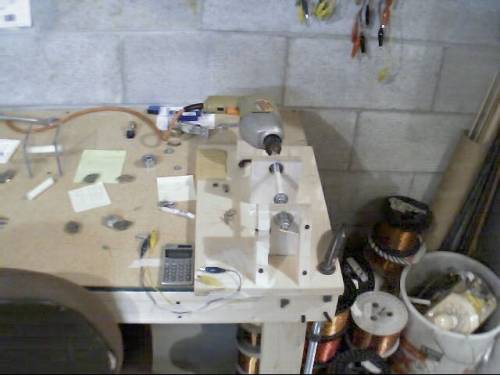 Need a winding jig for your coil projects? Well so did I... trouble is, I had neither the money nor the machine shop to make one. So I built this little guy out of wood. Pretty basic but it works well.
The calculator is my counter. Find a calculator at the dollar store. If you can test it there, great. Press 1 + 1 = = = = = = = = = =
You will see it counting up by 1's ...now press that = as fast as you can repeatedly. Does it seem to register every press? If so, buy it. Otherwise try to find another one that does. You want to be able to register several turns per second otherwise coils will take forever.
Also, don't be near clerks when testing. They will think you are abusing their wonderful 2 dollar calculators

Laugh. -Which you definitely are!
Ok so you get it home. Rip it open carefully ...they are delicate as hell. Get some really thin gauge wire. I used 32 AWG. Use 2 pieces of 12 inch wire. Strip the ends of the wire so it is bare copper, and tape it inside, to the 2 terminals that the = sign uses. This may be hard to locate, depending on the calculator. Once done, you should be able to tap those wires together and have it do exactly what pressing the = sign does.
Now re-assemble your calculator, which is still perfectly usable, by the way, and attach your 2 wires to a reed switch. Do 1 + 1 and start passing a magnet by the reed switch. It should count up every pass of your magnet

I then improvised a way to attach a small magnet to the shaft of my winding jig and I'm in business. I actually used a small piece of rubber tube and glued the magnet to the end of a tiny dowel rod. The rod is glued to the rubber tube. Now I can slide my little magnet collar on and off of any winding jig that I am using, whenever the mood strikes me

I will get a bunch more up-close pics for you soon. I also have a lot of other pics of 2 new winding jigs that I designed. They will be coming very soon!