I got into the Dave Gingery "Home Machine Shop from Scrap Metal" series, because I was often in need of parts that required machining. I know that this is a bit of digression from my normal OU motor building work, but hey it's fun as hell and in the end, I will be able to make anything I need for my prototype motors, so it's all good :)
I felt that it was necessary to take a snapshot of the old garage :) It will be (yes with my wife's permission) the future site of my little machine shop. I am going to steel only 1/2 of it at this time so that we can still park a car in the other half for now.
We desperately need to get a tool shed for our yard. I can move a lot of our junk out to that. Mowers, bikes, tiller... etc. I hope to move most of the stuff here out to the shed (when we get it) so that I can have a nice clear area for my shop project.
I do have a downstairs area, but it is tiny and if I'm going to be smelting metal I don't think it would be wise to do indoors. Besides, if this stuff weighs what I think it's going to weigh, after it is assembled... I surely don't want to have it in a basement.
I hope to move us within the next year or two, to a house that I want to design and build myself. It may be a dream but hey. We need those right? If I can pull it off. I will build myself a nice 20 x 30 shop or something :) woohoo!
For now, this is going to be home to my shop projects.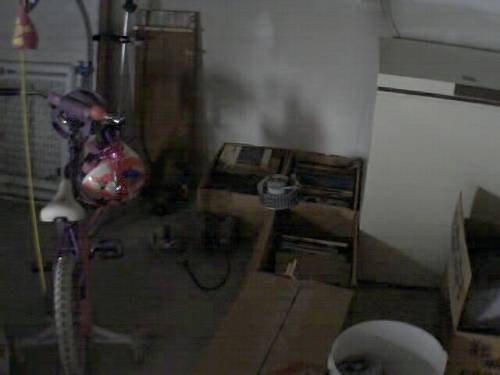 While snapping a shot of the future shop site, I decided to get a pic of some of the motors I scrounged. I found a guy in my area who deals with old and discarded washers, dryers, tv's ...anything really. He is a great source for some motors. I bought 5 for 5 bucks the other day. Several of them are pictured here. I apologize for the poor lighting.
I got some blower motors that I want to use for the foundry and some larger 1/2 horsepower motors to try for the lathe.
If they don't work as planned, it's a simple matter to get something else from him. By the way, anyone have a pin-out for the GE 1/2 horsepower washing machine motors? They have like 7 pins on them and I'm scared to just try guessing at which 2 pins to connect to house current! -Zaap! Pop! ---Chris ...now what did you do? .....Nothing Honey! ....Nothing?!? I smell something burning?!? ...No honey, that's just your imagination!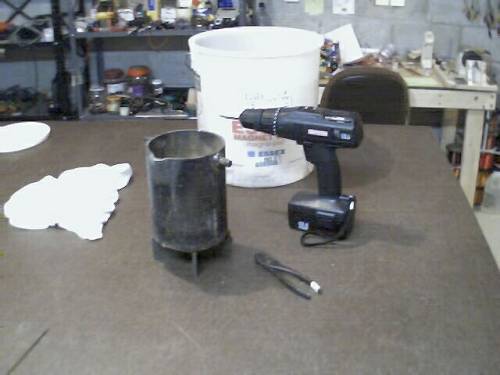 I ordered 8 of the Dave Gingery books from Lindsay Publications but made the mistake of getting them sent ground (cheapest way) mail. It has been like 10 days now and I'm going nuts! Note to self: do UPS next time... you cheap bastard!
The 7 books were the series on the shop and the 8th was the injection mold plastic one. I hope to do some work with that someday. Perhaps winding some bobbins for my coils?
Anyway, I felt confident enough from the info I have gleaned on the internet, to create my own crucible and foundry; even though my books have not yet arrived.
Kudos to BackyardMetalCasting.com for Lionel's nice work and outstanding site! He helped to twist my arm into getting some descriptions on my pathetic site so I have to give him some thanks and a plug :)
At any rate, I have done quite a bit of computer work for a local machine shop Quality Metal Works, and in return, the owner, Jack has agreed to machine parts for me. I decided that this would be a great thing to have them do so yesterday (9/2/2002), Jack and I threw this little crucible together from some scraps at his shop. I have taken information from Lionel's site and expanded a bit with my own little idea for the bottom :) I hope it works as well as I think it will.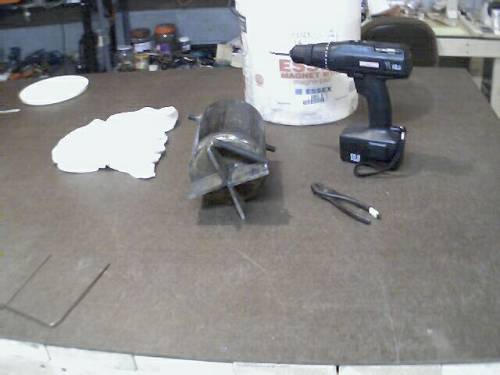 Here's a better look at the bottom. I basically had Jack weld 2 pieces of angle iron (2 inches long) onto the bottom in an X shape. I think this will provide some better heating for my little charcoal furnace. We put the bar for lifting on the 2 back fins, but I may remove that and go with something else, if it interferes with heating that bottom area too much. The more I look at it now, the more I think it will prevent heating there.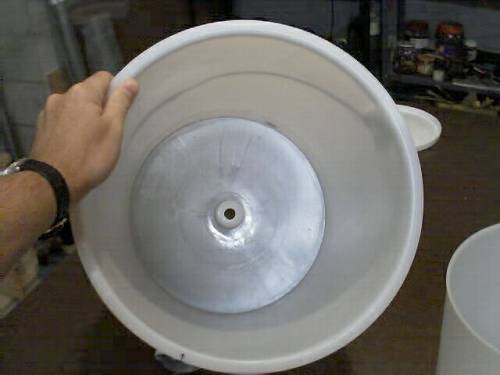 This hole serves as a centering hole for the wooden form in the bottom of the furnace. The wood will be burned out after the furnace is fired up... or so I hope.